Timeline of our History
Since the 1830's the O'Shea family have farmed on the banks of the river Suir in Piltown, Co Kilkenny. The family came from Kerry and settled in Ardclone where they purchased 42 acres of land. Today the family farm over 1500 acres, assisted by loyal staff in a rural community.
1943
In 1943 Thomas O'Shea married Eileen Kearns and they had six children together. Thomas kept 20 milking cows, hens and pigs. He also grew corn, vegetables, potatoes and had a small orchard along with raspberries and blackcurrants. Eileen sold eggs, apples, potatoes, other vegetables and soft fruits grown on the farm in local farmer markets. She took an active role in the business.
1969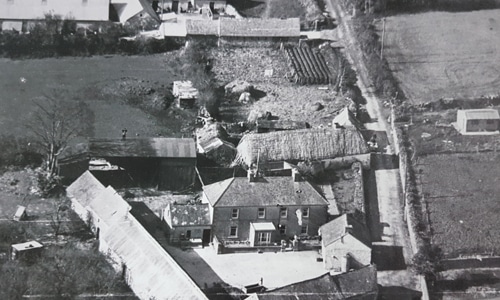 By 1969 they were farming 195 acres, with a mixture of dairy, beef, cereal, potatoes, vegetables and soft fruits.
1972
In 1972 four of Tom's children - Richard, Seamus, John and Joe formed a partnership - O'Shea Brothers. While they were growing many different types of vegetables in the early 70s, they identified marketing of their produce as a project to be tackled.
1978
In 1978 they set up a chain of dedicated greengrocer shops in counties Kilkenny, Waterford and Tipperary - seven in total. This in turn led to the next new adventure.
1980
In 1980 Iverk Produce was established to supply quality fresh fruit and vegetables to wholesalers, retail shops, hotels, catering services and restaurants across the South East.
1992
In 1992 the company took another step forward when they amalgamated Iverk Produce with Fyffes/Total Produce. Through this joint venture Fyffes moved to a new premises in Piltown, creating many new opportunities.
1996
In 1996 Iverk Produce established a relationship with Musgraves (SuperValu and Centra), supplying them with potatoes and carrots.
1999
In 1999 Aldi Ireland established their first shop in Parnell Street Dublin and another in Ballincollig Co. Cork. Iverk Produce supplied fresh fruit and vegetables to them. This relationship has grown exponentially and currently stands at over 130 stores nationwide.
2009
In 2009 O'Shea Farms was established by the next generation of the family. James and TJ O'Shea took responsibility for all field operations, processing & packing, and marketing of their produce.
2015
In 2015 the O'Shea family invested in 960 photovoltaic panels on the rooves of their potato storage sheds. It was Ireland's largest private solar investment at the time and displayed a major commitment to sustainable farming for the future.
2017
In 2017 O'Shea Farms made a major investment in Waterford based food company Meadow Fresh Foods who specialise in supplying ingredients and prepared vegetables to the food service, wholesale industry and food manufacturers.
Present
Currently the O'Shea family farm over 1,500 acres, with a mixture of cereals, carrots and potatoes, as well as a herd of spring calving dairy cows. Sadly John O'Shea passed away in 2018 following a short illness. He will be remembered for his generosity and philanthropy. Six family members are actively engaged in the business.